Amazon Connect Caller ID Name and Number basics!
Historically, the only caller ID you can send, is that of a phone number that actually appears on your Amazon Connect instance.  This has now been modified and AWS will let you send the CID of a number you can prove you own.   Lets assume you want to send the CID of your company's main number when agents make an outbound call.  Open a ticket with AWS support, include a copy of the phone bill proving you own the number, and they will let you display that number in your outbound CID.
The following are strategies for selecting the desired CID on outbound calls.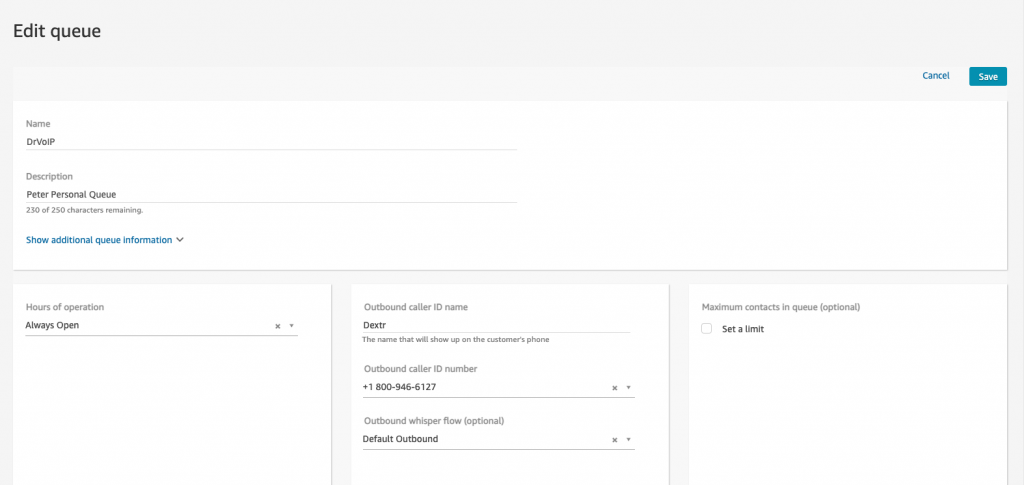 Routing Profile impact on Caller ID
Each Routing Profile associates a User or Agent, with the Queues that they should be a part of.  A Routing profile may contain one or more Queues which can also be used to determine the priority in which calls should be answered by an Agent.  Assume that an Agent is a member of a routing profile that contains both Technical Support and Customer Service Queues.   Given two inbound calls, one for each Queue, which call  should be presented to the Agent?   This is determined by routing profiles priorities!   Also note that the Routing Profile indicates which Queue - read Caller ID - should be used when an Agent who is a member of that routing profiles makes an outbound call.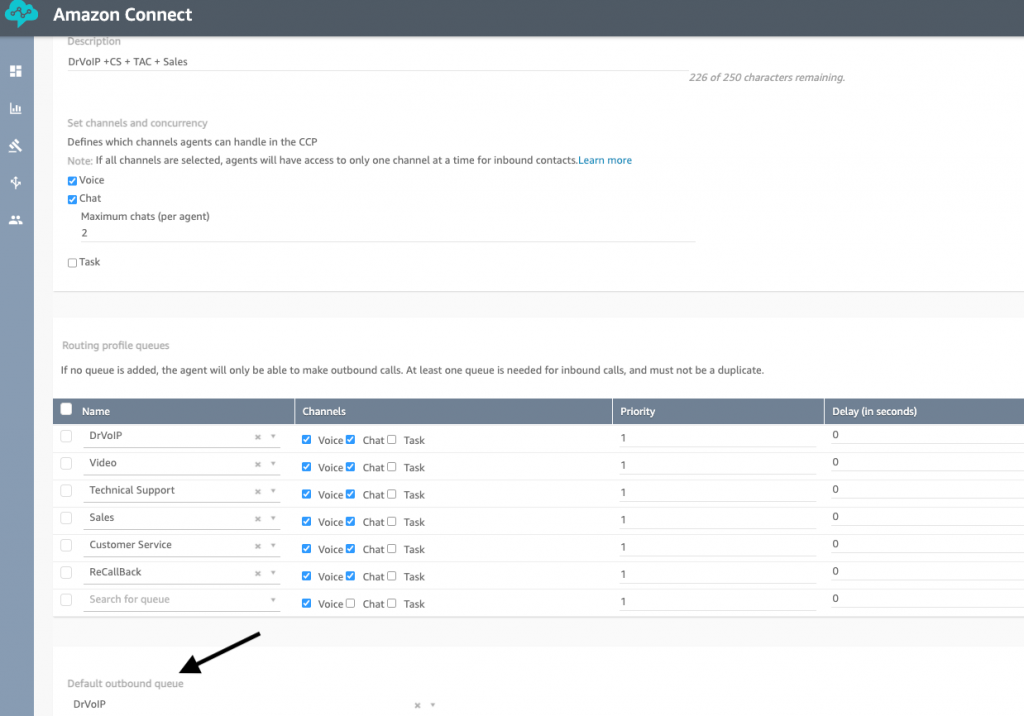 Dynamic Caller ID Strategy #1
It is possible to set the Caller ID by editing the 'Default Outbound" contact flow that is called for each outbound call that is dialed.   This Contact Flow determines what the recording status is, names a possible disconnect flow and it also indicates the caller ID to be used for this call.  This is set by the Call Phone Number step in the contact flow.   You can hard code a number here and it will over ride the settings established in the Queue and Routing Profile configurations.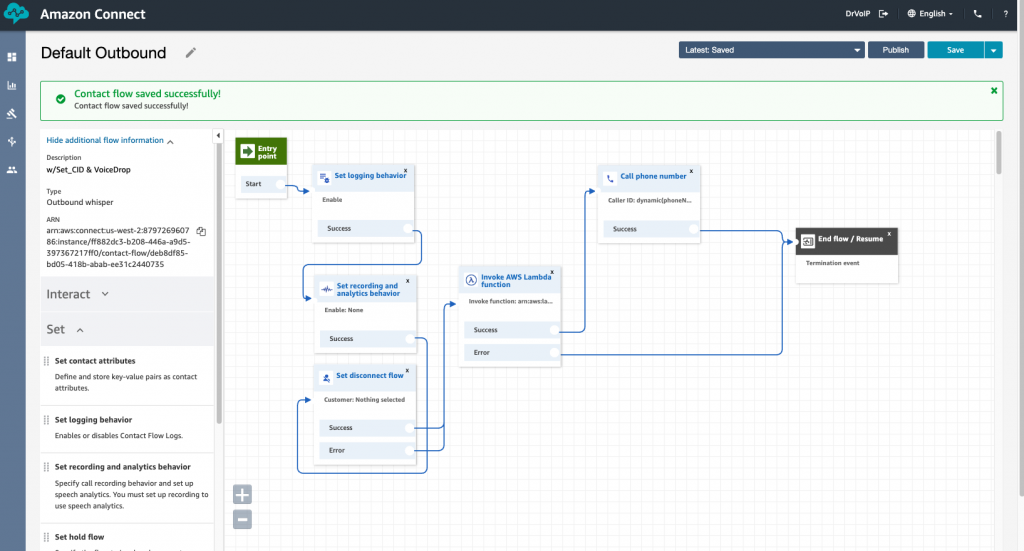 Dynamic Call ID Strategy #2
How can we set the caller ID on a call by call basis?  Is there a way for an Agent to set the Caller ID each time they make an outbound call?  The simple answer is yes.   You will need to create a Custom CCP, a Lambda function and a Dynamodb table. AWS publishes an API for dynamically setting the caller ID that will help create the configuration, but you will still need to create a modified soft phone or CCP. The above video shows how this might work in a real world application.   The Agent is presented with a drop down list of all the numbers that are attached to the Amazon Connect Contact Center.  The Agent selects the desired number and places the outbound call.   
 Give us a call or email DrVoIP@DrVoIP.com if you need some help getting this designed and deployed!
URGENT NOTE on WIRELESS CARRIER CALLER ID,
Each outbound call is controlled by several factors:  First each queue has a setting that enables you to select an existing number for Caller ID.  It also enables you to display a Name. 
The name however, must be set in a National database and to do this, you will need to open a technical support request with AWS.
  They will manage the database update but you will need to provide the following details: 1) It is important to note that the calling name has the restrictions: no special characters, and will appear in all capital letters. Given that, please provide: a) Up to 15-Character desired Calling Name to be displayed (limit on wireline is 15) b) Up to 25-Character desired Calling Name to be displayed (limit on wireless is 25) 2) Name of business, city and state (if city and state are left blank, there are circumstances when the NPANXX of the dialing number will appear instead) 3) Type of business (technology, government, utility, etc.) 4) Type of usage for the phone number (survey, customer service, etc.) Support will alert you when the CNAME has been associated with your selected number.  Please bear in mind CNAM services is a best effort service and the limitations are on the carrier side not Amazon Connect. AWS (nor can any other vendor) 
cannot guarantee on the wireless network
that the call will propagate since the wireless carriers at this time control the propagation of the CLI name on the B Number (end user receiving the call ). As for wirelines, CNAM will work well, meaning a call made to a wireline device, the CNAM name will propagate.
In order for wireless consumers to see the correct caller name on their device, they will need to be subscribed to the caller name app of their carrier. While personal and business landline phones have caller name as a default, the wireless industry requires the user to opt-in or subscribe to their carrier caller name service in order to see the caller name on their display. Below are links for the major wireless carriers and the details on how to subscribe to Caller Name on your mobile device. Note that T-Mobile now offers this service for free, no subscription required, however the user still needs to manually opt-in/download the Scam Shield app.
Verizon Call Filter levels:
Subscribers with Call Filter Plus – Caller Naming enabled as a paid service.
Caller Name expected to display. Subscribers with base Call Filter – Caller Naming not enabled, however Verizon works to "promote" Caller Name, for emergency numbers, like COVID numbers.
Subscribers with no Call Filter – Caller Naming not enabled. Verizon unable to provide/promote Caller name. Number only expected as the display