When to Transfer to Flow and Why?
A typical call flow might have a caller reach an IVR Call Tree that offers options to reach different departments and workgroups in your company.   "Thank you for calling, Press 1 for Sales, Press 2 for Customer Service and Press 3 for Administration" as boring as it might sound, is a typical call tree self navigation audio instruction prompt.  Let's assume the caller presses 1 for sales,  do you "transfer to flow" or "transfer to queue"?
Transfer to Flow?
A flow enables  you to string together a number of setup options that customize the callers experience and enable different call handling options.  For example, you may want to reset LENS, change recording behavior, change voicing, set contact attributes and set the queue hold flow.   These options would not be available if your set the working queue and then transfer to queue from the main IVR menu, robbing you of the opportunity to establish a unique caller experience.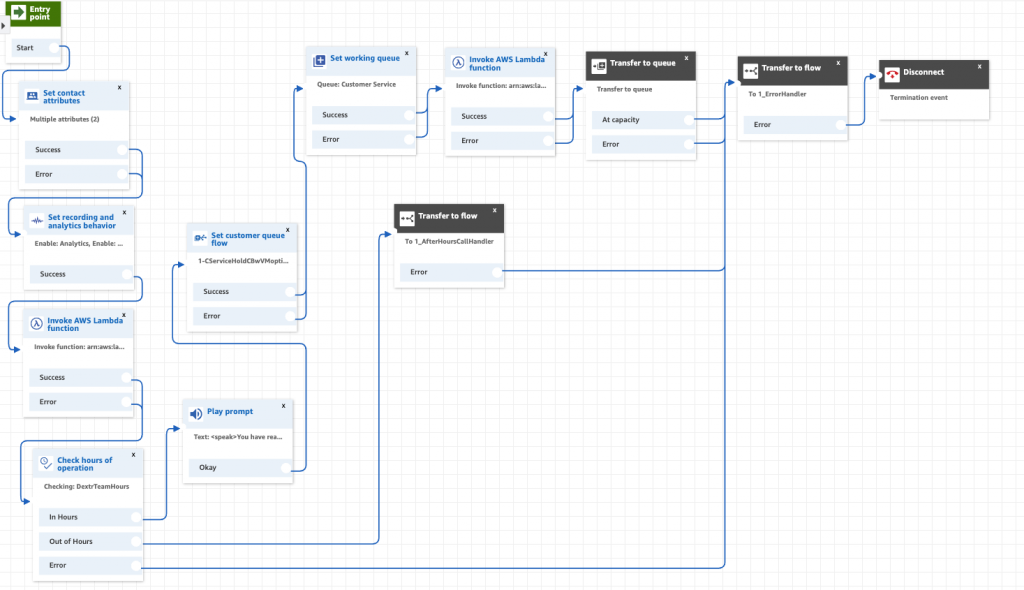 Transfer to Queue
You will notice that within the Customer Queue flow, there is not option to transfer to another flow!   There is an option, however, to transfer to another  queue.  You will also notice that this is one of the times you can transfer to queue without first setting the queue!    Assume you have a caller in the "customer service" queue hold flow and periodically you offer them the the option to transfer to another queue.  More likely, you may have a loop in the wait time that after an extended time transfers the caller to a "high priority" queue. Generally, you will always transfer to flow and only use transfer to queue within the main contact flow or the queue hold flow!
Fun Fact: Brain Teaser Question:   
What is the queue hold flow that the caller will be associated  with when they transfer from the "customer service" queue hold to the "high priority" queue using the transfer to queue flow step?