What Carrier do I use for this location?
If are responsible for planning out a WAN connectivity solution for your VoIP deployment, you need to know what carrier services your target circuit location. This can lead to the most frustrating experiences an engineer can have! You actually have to rely on someone else to provide information so you can finish your work! Even a simple point to point VPN tunnel requires you to figure out what carrier options are available at your target location. How do you do that? Start calling a list of carriers and asking the first line call center sales folks if they can provide an internet circuit to your branch office in Syracuse, New York? You do a google search and you end up with a list of possible candidates and then you start your outbound calling! Maybe you have a friend who is a sales rep for a circuit aggregator, so you try that option.
The secret Carrier database!
What if you could go to a website, you don't even need to talk with a sales person, you just plug in an address and Viol! A list of all the Carriers that can service that location magically appears! X marks the spot of every Fiber drop that carrier has in the specified distance from your target address. Not just the carrier your aggregator wants to show you, but all the carriers that can service that target location. You even get a Google map street photo of the location! What if you could just click on that magic X and get a quote! Now that is freaking awesome! We have been working on a very large WAN deployment to a ShoreTel system that has over 500 branch offices! Now try and knit together that circuit map without a database resource that you can directly tap. We discovered a website that makes the process as simple as entering a location address. Blow out your candle Pilgrim you search has ended, just
click here  e
nter a Street location and you you will get a list of carrier solutions.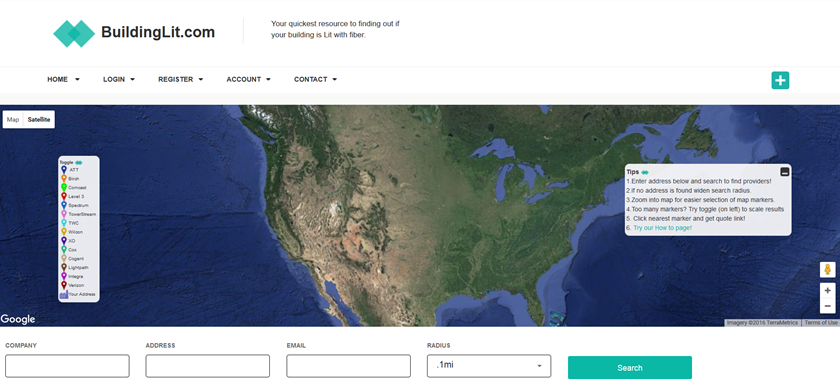 The good folks at BuildingIT have made finding WAN solutions as simple as locating an Uber Driver!    You don't have to talk to a sales person, but if you do, they have some of the smartest circuit folks in the industry.  Can't find fiber for  your Laramie WO location, ask sales to quote a solution through the website and they will come back with any number of alternative solutions, priced and ready for the next phase of your deployment, installation.   They even offer  bundled project management so you don't have to worry the deploy.  One throat to choke, one website to research and one solution that makes a lot of sense to us!