The Vision!
It has long been our vision to create a UCCX script that can be used to rapidly deploy a new Customer Service Queue.   We appreciate that each Contact Center is different, but there is a set of expectations most folks have for the basic call flow and feature sets.  Between the vision and the reality is a leap of faith, but we have emerged a Generic Customer Service Queue consisting of a small library of scripts, professionally recorded audio prompts, XML document files and supporting sub flows that, taken together,  provide a very rich call center solution.  If you are building out your Contact Center with CISCO UCCX as your call processing engine, this script will get you operational in a fraction of the time it would normally take to design and develop a script form scratch!   If you are running at least Version 8 or higher on an Enhanced license, the resulting contact center script provides a rich set of features.
Included Feature Options:
Auto configuration based on the Number Called;
Holiday List checking for programmed closures;
Supervisors are enabled to open and close a CSQ on demand;
Supervisors can record a custom closed message (meetings, emergencies etc.);
Call flow can provide for Language selection (Press 1 for English);
Each CSQ can be optioned to play estimated wait time and position in queue;
Each CSQ can be optioned to enable a "call back without losing your place in queue";
Each CSQ can be optioned to allow caller to leave a message, bailout to operator, or arrange call back;
Each CSQ is checked to assure there are agents logged in;
Music or Message while in Queue can be optioned on a per CSQ basis;
Extend Call Holding Options can be offered based on max time in queue;
Each CSQ can be optioned to enable the processing of a list of off site agents that can accept a remote call;
Custom layouts can be created to push information to the Agent Desktop Display based on CSQ;
QueueOptions.XML
The heart of the script is the "Queue Options" file that is read with each new phone call received by the system.  The script then configures itself to identified CSQ options based on the called number.  The called number is used to retrieve the options for the target CSQ from an XML file.  For example, callers to the Customer Service CSQ may be prompted with estimated wait time and position in queue, while the callers to the Technical Support Queue are not offered this information.   Perhaps arranging a "call back from queue without losing your position" is a feature that is offered to Platinum callers but not to the Silver clients.  Each CSQ can have different prompts and customer care messages for those waiting for the next available customer service representative.  The options offered callers can be different for each CSQ.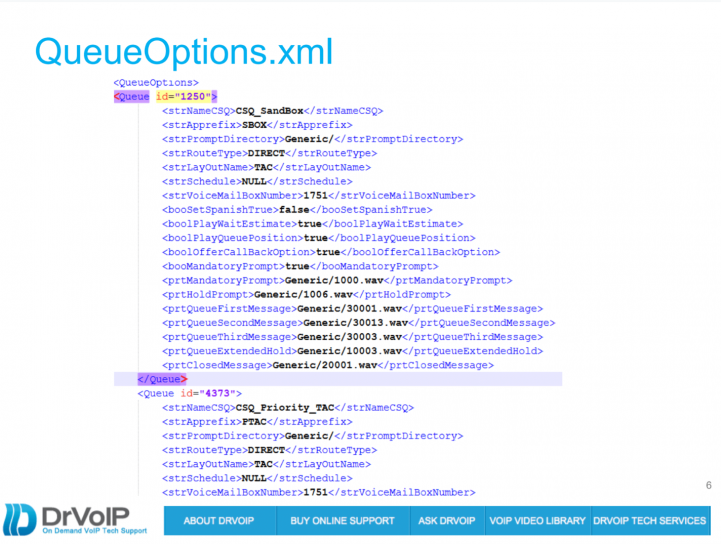 Call Center Administration
Emergency closure?   Authorized users, typically the call center supervisor, is issued a PIN and Queue number.   This enables them to call the included CCAdmin IVR Module, enter their PIN number and then select the CSQ number.  They are the offered the option to open the CSQ, or close the CSQ and record a new closed greeting.    No more calling down to the System administrator every time you want to close the CSQ for a team meeting! The script is optimized to provide the richest set of functionality based on a wide cross section of call center applications and at the lowest possible cost both for acquisition and ongoing maintenance.   As the script is both extensible and reusable, it can be used for future CSQs and as such, it will save you money on into the future!   Give us a call and we can download the script to your UCCX Contact Center, configure the options and have you up and running with a professional call flow and sound with in few hours!  Clients who purchase this option will continue to get follow on updates as we continue to add new functionality! We have updated the Script for 2019, so watch the new video which details the new feature set!