Call Handling modes has always been one of ShoreTel's most popular user features. The concept is simple: define how you want the system to process an incoming phone call to your desk in case you are "out of the office", "in a meeting" or "sitting at my desk". Before ShoreTel, the company receptionist would have the responsibility of putting a caller on hold, calling your extension, finding out you are away from you desk and then asking the caller if they want to leave a message. For me the most exciting aspect of the ShoreTel Call Handling modes is the fact that the Operator no longer has to be responsible for call deposition. The Operator plays the role of greeting and salutation, but now each ShoreTel extension user can create their own call flow eliminating the requirement that Operator stay with the call until the very end. Typically the message acquisition and retrieval functions kick in if you are away from you extension, but ShoreTel has enabled the individual user to create more productive call flow resolution strategies.
If your job role is part of a larger group, it may be more appropriate to ask the caller to press zero to speak to another member of you team. Let's not defer a client request for assistance or a new sale opportunity just because you were not at your desk! For those "must be found" professionals, ShoreTel has a very flexible "find me" call flow strategy. Just ask the caller to hold the line for a moment while ShoreTel tries to locate you when VoIP solutions in general and ShoreTel in particular. These call handling options are set by the individual, under the individuals control without system administration training and without requiring the Operator to keep other callers holding while desperately taking messages or trying to locate you. Now that is an example a increasing worker productivity!
So how do you improve on this model? Well ShoreTel version 9 has done just that. Imagine the power of being able to create not only call handling modes, but call handling rules that are based on who is calling you! Maybe Friday phone calls need to be handled differently? What if we have several advertising campaigns and you want calls routed based on the number the caller dial (e.g. DNIS)? ShoreTel Version 9 has added a wealth of exciting new call flow options that are based on who is calling what number at what time. One of the most valued functions of a live Operator was the "call screening" function and now ShoreTel can even replicate that function, announcing the caller's name and giving you an opportunity to accept or reject the call. The options for stream lining call flow to match client call handling goals are virtually unlimited.
In a VoIP world we no longer associate an individual to a specific desktop location or geographical. Using Call Handling modes and Personalize Call Handling options, every client call to your extension can be handled in a manner that best reflects your business goals. Operators do not have to keep an "in out" status board, or waste the valuable time of clients as different call resolution strategies are attempted. Each user now has complete authority to manage call flow excellence!
[caption id="attachment_54" align="alignnone" width="401"]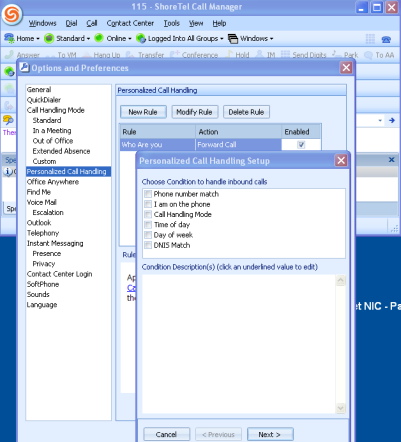 ShoreTel Version 9 Personal Call Handling Options[/caption]