The Call Back Dilemma !
It is now common place to hear an option while you are on hold in a call center that suggests "If you would like to arrange a call back when an agent is available, press 1 or continue to hold for the next available agent".    The caller can then enter a phone number, hand up and when an agent becomes available, the system first connects the agent and the places and outbound call to the phone number that requested the call back.  This all works well except when the number entered is the main switch board number at the company that the caller works in.  The receptionist answers the inbound call and says "how can I route your call" and the agent has no clue who in the company requested the call back.
Here is one Solution!
During the call back process, in our contact flows, we ask the caller to enter the number they want us to call them back at.   We read back the number to them and offer them an opportunity to re-enter the phone number if it was incorrectly entered.  We then follow with a prompt that says "if the number you entered was the main number of the company you work for, please enter the phone number of the extension we should ask for when we return your call.  if there is no extension number please press #".   We store the extension number as a contact attribute which is saved with the contract trace record.  You can even select contact search in the real time metrics of your Amazon Connect dashboard and verify that this attribute is in fact saved with the the contact ID record.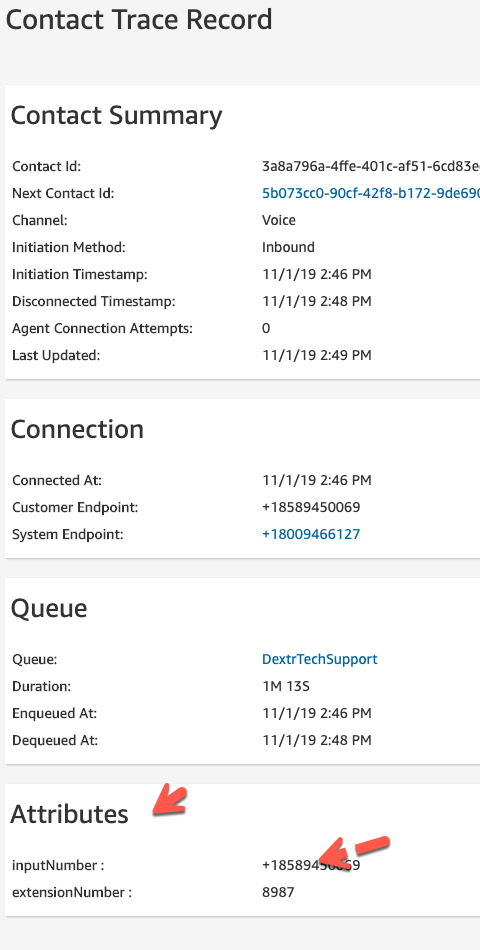 Default Outbound Contact Flow
There is a default outbound contact flow in all Amazon Connect instances and you can modify and "save as"  or use it as you desire.  The trick is to create an outbound prompt that plays  a prompt that says "This is a return call from DrVoIP office as requested by someone in your company.  That person is located at <extensionNumber> so please transfer this call to that extension as an agent will now join the conference".  In this way the receptionist is alerted to how the call should be routed and we have no accomplished what we call "deep call back".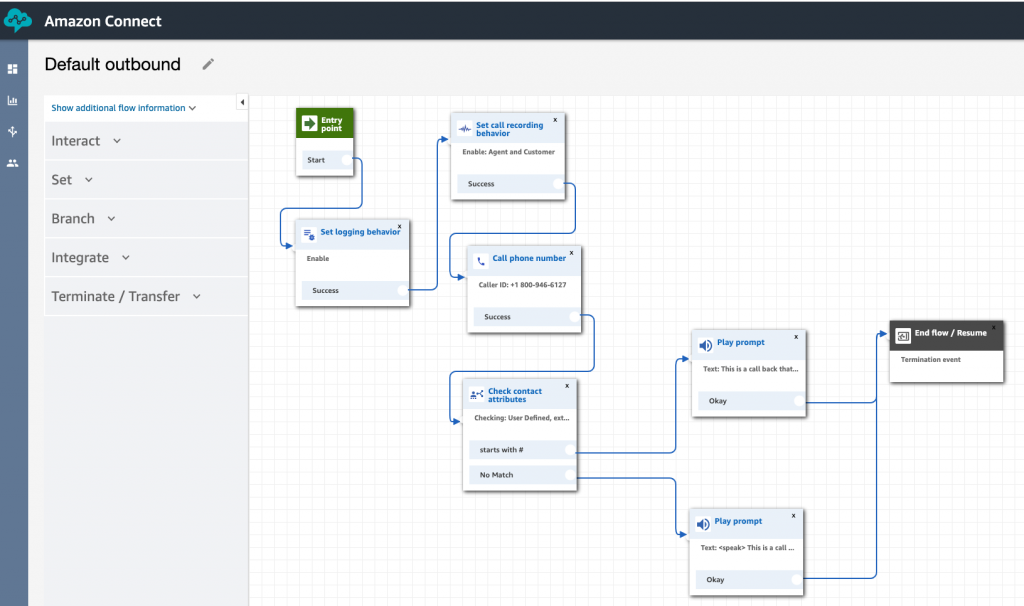 In this example we check the contact attributes to see if <extension number> starts with # which would indicate there is no extension number. For this reason we want to play a different prompt "this is the call back you request from DrVoIP technical support".
Options to Improve the experience for the Agent
There is a default Agent Whisper Contact flow that is regularly used in an Amazon Connect call center to let the agent know what Queue Name the caller hit!  Agents who are part of multiple queues find this very helpful.  This contact flow can be modified to play the contact attribute <extension number> when an outbound call is connected.    Optionally, you can present the <extension number> in the agent desktop as a text field. The configuration of contact attributes in the  Amazon Connect solution is a very powerful tool and can be used to solve a lot of customized challenges!  Give us a call if we can help you set this up! - DrVoIP@DrVoIP.com