WANtelligence?
Recently while working an RFQ project to re-mediate the WAN for a major health care practice management company,  we had the opportunity to listen to the major carriers describe their network solutions.   The client company was seeking a new partner to provide network connectivity options for their several major corporate locations, three data centers and over 600 remote office locations.   The company is growing expotentially and expected to double its WAN requirements and end points with in 12 months.  The network was to provide Internet, data, voice and video communications and as such,  the Service Level Agreements were to be consistent with those required to provide toll quality voice and full motion video.   Historically the company had used ipsec VPN tunnels over Direct Internet Access (DIA) facilities that ranged from bonded T1 to shared media broad band cable and occasionally free space transmission when terrestrial connections were impossible.  Each remote site also used Cradlepoint 4G for fail over and redundancy.
MPLS connectivity to rural America?
Not withstanding San Diego's recent loss of the Chargers there are some 32 NFL cities in the United States.   Contracting for a high quality, high speed WAN solution in any of these cities is really not a challenge, most any carrier can help you.   The real challenge is getting the same connectivity  to Margaretville, New York or East College Station, Texas.   If you are searching for an MPLS connection to a branch office in a rural American area and you will find that it is rubric cube of challenges!  No one carrier has a foot print that will cover all your requirements and if you are looking for "one neck to choke" when things go black,  you may be giving up network visibility to  facilitate easy order entry and administration.   Work with an aggregator and you will most definitely lose your visibility to the underlying carriers who together knitted your WAN solution.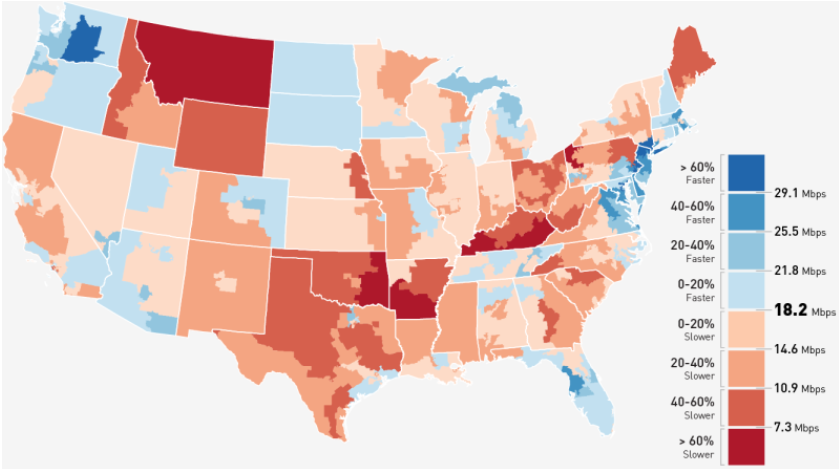 (Using our super secret online carrier database,
www.buildinglit.com
, we attempted to check out broadband connectivity to
Margretville
New York,  just for kicks to prove a point.  Click here for results.) We listened attentively as Metel,  AT&T, L3, Century Link and Earthlink stepped up to the podium and delivered their very best solutions.   In all but one case, each carrier presented an MPLS solution.   All carriers mentioned SDN, but only one carrier led with that solution and recommended it as the solution for this client opportunity.   Most of the presentations began to sound the same, each carrier was the absolute  best in the marketplace,  each had the widest foot print, with outstanding customer service and the best proven technology!
What is SDN anyway?
Most folks can remember way back in 2007 when Steve Jobs introduced the device that would not only change Apple, but redefine mobile communications forever.  Jobs had given AT&T the exclusive right to provide network connectivity for the new device.  It was something of a "bet your company" play for both Apple and AT&T.   When the iPhone App Store came online, after Jobs opened the iPhone to developers,  the demand for bandwidth exploded and the AT&T network all but collapsed under the weight of all the new devices.  AT&T had to act quickly, faster than building new network capacity would allow.   The solution was to apply software in a way that network capacity would be effectively increased while physical plant was being deployed.   AT&T pioneered software-enabled networking! For those not familiar with the concept of Software Defined Networks, or what we call WANtelligence, think of two roads connecting a location across a river to a main highway on the other side.   One road might be a more direct path, but not well paved.   The other road might be well paved but not very direct, with more of a circuitous route that added miles to the  distance of the direct path (i.e. Latency).   From time to time, the roads might be backed up with traffic, slowing or stopping your efforts to get to the main highway (i.e. Jitter).  A software defined solution works something like the popular mobile app Waze or Google Maps.   As  you are traveling, the map sends updates and suggest alternative routes.   An SDN solution would not only inform you of conditions, but automatically just take the action of routing you over the best route! At the Branch Office end point, SDN components require multiple connections to the main broadband highway.  Generally, this might be a broadband connection like MPLS in addition to a DIA link.    The onsite device, under control of a cloud based optimizer, does a packet by packet analysis of the best path solution.   Again, much the way your traffic app knows your originating location and destination,  the SDN knows source and destination and the status of the entire network options between and through central control, optimizes path selection. There are many vendors of the equipment that might be located at your Branch Office, but they might not provide the total solution.    A complete SDN requires that a centralized intelligence, typically a cloud based portal, be aware of the network and all other end points on that network.   Some devices can also include functions that might otherwise require separate devices.  For example, Firewall, Intrusion Detection, Network Optimization, Compression and Encryption in addition to the flow control and VRF functions that make up the elements of Software Defined Networks.   We found a
Gartner Summary
that is worth a review and includes a summary of many of the vendors in this exploding market segment.  We note that VeloCloud, a CISCO investment, seems to have it all and is establishing a defensible market share and leadership position.    VersaNetworks seems to be a component play and both companies have been included in proof of concept offerings by major carriers.   You can also download the white paper "Delivering Managed Services" from the DrVoIP site along with other free white papers on related subjects! WANtelligence Summary Software defined networks are in fact a reality and are rapidly becoming a cost effective solution that can assure high quality voice and video communications across the WAN.   We continue to work with this technology and have hands on experience with both products and services.   WANtelligence is our agnostic approach to developing Software Defined Networks!  Our Certified Network Architects add expertise and expereince to your enterprise when considering how to include SDN in your network plan!   Give us a call, or write DrVoIP@DrVoIP.com and we will share what we know! Update note -
Cisco closes on $610M Viptela purchase
Cisco Systems (NASDAQ:CSCO) has wrapped its acquisition of privately held Viptela.
Cisco had come to a $610M (and assumed equity) deal to acquire the software-defined wide area networking company in May.
Viptela will join the Enterprise Routing team inside Cisco's Networking and Security business under senior VP DAvid Goeckeler.
Shares are up 0.8% premarket.