The trials of a Call Center Engineer!
As a consulting engineers, we spend a lot of time working remotely over a VPN connection!  Testing configurations, features and CSS access requires end points!  Typically more than one end point device!   Scripting for the call center applications is even more demanding as you need to be able to test call flows.  Now a VPN over CISCO Anyconnect that allows you to work long hours remote is always nice, is not the same as a point to point VPN.  You might get one IP Communicator up on your local machine, but it is often not practical to register multiple devices.  When testing a UCCX scripts you need multiple Agent and Supervisor Phones to really ring out (pun intended) your call flow.  How best to do this?
Enter IP Blue!
I was taking a CISCO certification class and noticed that the instructor somehow managed to get multiple IP communicators up on his desktop.  I immediately realized the value this would have for UCCX scripting in particular and CISCO CUCM work in general.  I did a bit of research and found a company named IP BLUE Software Solutions, the industry's best kept secret!  They make some really innovative products, but the one that I now can not live without is the "VTGO-PC Multilab Softphone" a product without equal and one that is a must have for every serious CISCO VoIP Engineer.   With this product I can open some 5-8 7960 type CISCO phones on my desktop, all registered to call manager with individual extension numbers and separate sound interfaces (i.e. speakerphones).   I used to have one IP Communicator and one X-lite SIP phone open on my desk and that was the best I was able to do remotely.  Now I can open an entire call center on my desk!  Astonishing!
Softphone Feature Set
These softphones are fully featured CISCO 79XX models ranging from the 7960 through the 7975 and are completely configurable.   When working with multiple clients I can setup a phone for each system I remote into!  I can even right client on the Instance name and change it to a client name for future reference and quick setup when working on multiple simultaneous deployments! When working on a Call Center I can bring up a few agents, a supervisor and exercise the script for all the possible scenarios.  All on a single desktop!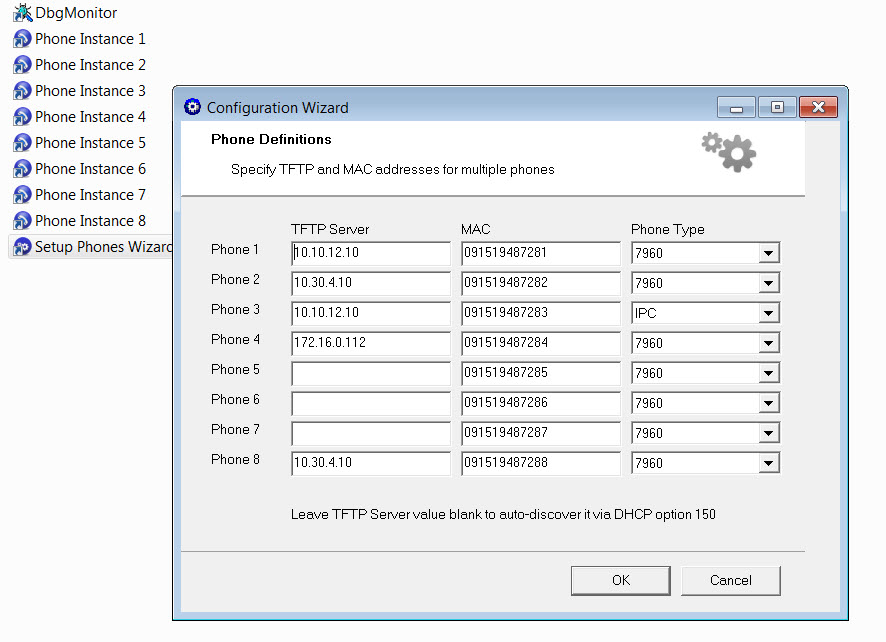 The feature set includes some really nice, not CISCO features, like an answering machine function!  Very Powerful! Multiple softphone instances can run on a single PC, connecting to the same or different Call Managers.  Each softphone instance is independent from another, and can call any phone including other softphone instances.  This setup allows to easily simulate various call scenarios, verify Call Manager settings, troubleshoot VoIP issues and configure Call Center Scripts results!   If you are running a  lab while preparing for some certification exam, this tool is going to not only save space and electricity, but lower the overall air conditioning requirements!  Here are some of the other features:
Emulates Cisco 79xx line of IP phones with dual 14 button expansion modules
Tested and certified with CallManagers 3.2-4.1, CallManager Express
Supports Cisco Survival Remote Site Telephony, redundant CallManagers, DHCP option 150
High quality-low latency using multiple codecs (G.711, GSM 6.10, G.729), QoS support
Accessibility features for visually impaired users include text to speech and keyboard shortcuts
Supports Extension Mobility
XML telephony services
Configuration Wizard with user-definable profiles
Supports a wide range of external USB audio devices
STUN/UPnP NAT traversal, SKINNY fix-up protocol friendly
Call log with Callback
Call recording, storage and playback with email attachment
Integration with LDAP directories, MS Outlook, Windows Address Book, Instant Messengers (Microsoft, Yahoo, AOL)
Language Localization (English, Dutch, Danish)
Dialing from MS Outlook, Web pages and much more
This is the best kept secret in the industry and if you are a serious student or working engineer doing anything with the CISCO Collaboration suite, you need to own this software.  If you boss will not spend less than hourly rate he bills you out at, get it yourself!  The time you implementation and troubleshooting time you will save, will more than pay for itself in increase leisure and family time!    We rarely pitch products on this site, but this product was just so astonishing we had to share it with our readers!