When you lease expect it, expect it!
We were deploying a new CISCO Voice Gateway, a CISCO 2921 with a PRI and mistakenly pointed a browser at the LAN Interface while searching for the CUCM URL!   Sometimes accidents result in new information.  We generally do not use Configuration Manger so we were very surprised when the browser returned the following screen.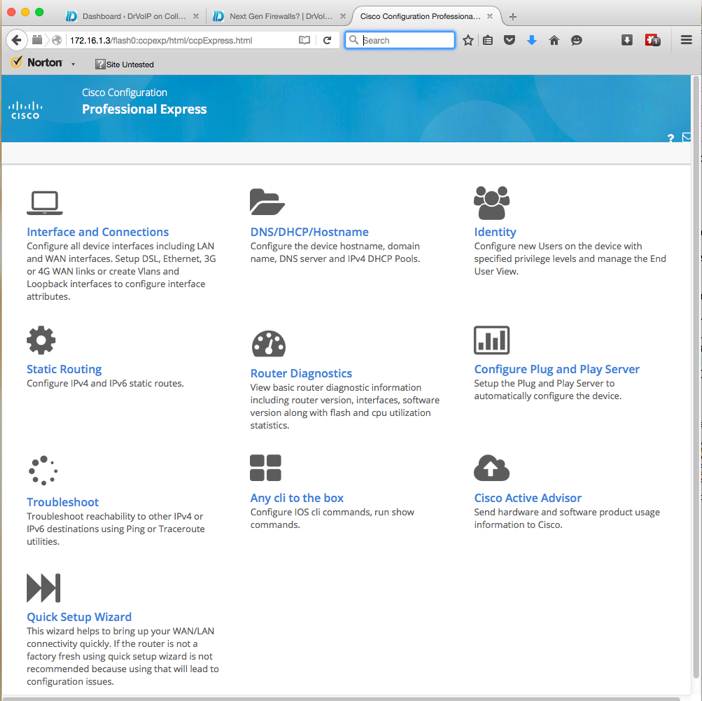 What Can you do with it?
After the initial WTF?  We started to poke around and what we found was more than interesting!  This is a lightweight version of CISCO Configuration Professional, embedded in the router flash memory and it is enabled by default on newly Minted access routers.  Currently, Version 2.7 is shipping and it has both an Admin portal and a User Portal. The Admin portal is enabled and shipped on the router.  If you want to add the Use Portal (I have no clue why you would do that) you have to download and install additional software to flash memory.  The System enables base configuration of key components like WAN links,  VLANs,  User, DHCP and SSID management.  It has a Quick Setup Wizard and some interesting Router Diagnostics!  There are also basic troubleshooting tools like Ping and Trace to assist debug efforts.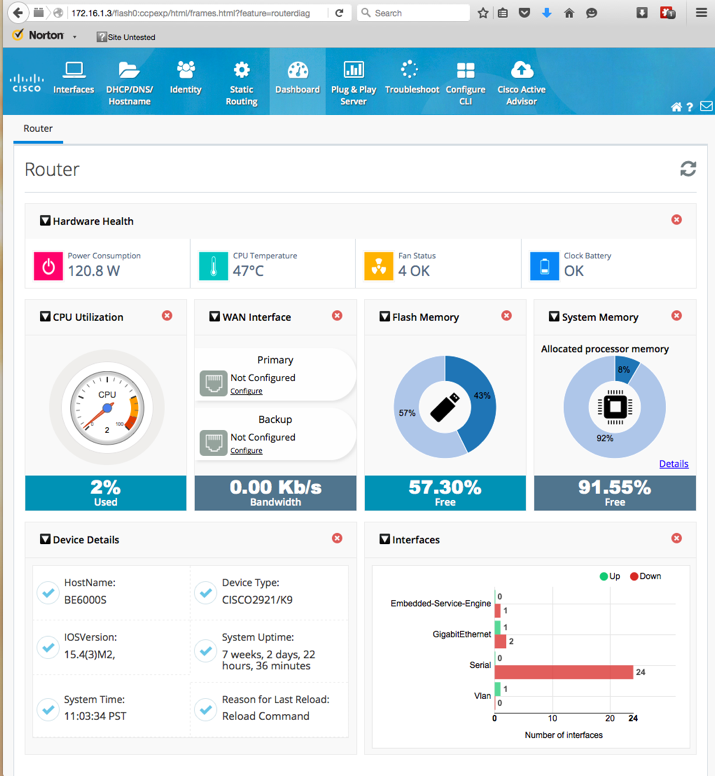 "Plug and Play" Option
There is also and an option for a "Plug and Play" server as part of the Prime Infrastructure support to automate remote deployments.   If you are deploying a multi-site solution, this can significantly speed things along allowing for centralized planning, design, installation and management.    Ship the router to someone who is capable of plugging in the right cables and off you go!  The router finds the gateway, sends a request to the mother ship, identifies itself by serial number and can then download firmware and configuration files!   Reload, up and running!
When folks wonder why they should pay more for a CISCO router when they can get Brand X for so much less, you might think about the impacts this can have on total deployment and maintenance costs!   It had a great beat and it was easy to dance to, we gave it a 10!